As I have already said several times, I have a great time during the sessions and here you can see an example of a typical session day. The idea of the photo was very simple, two girls stretched on the couch watching the computer, but the thing became more complicated. It all started with the reflection of the screen, Laura and I were reflected and we could not stop laughing at each other. Then Toni started to say, "Elena, do not laugh!" joking repeatedly and very quickly and I could not stop laughing, I even started to cry from laughing (as seen in the photos).Then I got red as a tomato until I had to get up and go wash my face.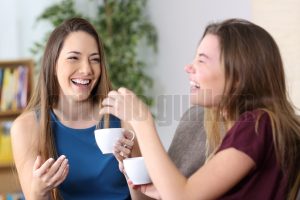 Later we tried to make a different photo in which my face did not appear so much in the photo, because it was still very red. The photo was of two girls having coffee on the couch, but I was still laughing at the previous situation, plus the cups were empty and in the photos it seemed like I was throwing the coffee on my self.
And Toni kept repeating, "Elena, do not laugh!".
These situations are very common on session days. Most times we have to do a serious picture we concentrate and try to hold it until someone starts laughing and no one can stop us there. And sometimes it is Toni himself who makes jokes causing chain reactions.
Best of all is that some of the photos can be used for sale.