Today we want to share a few recent interviews that we have done in the media. The first of them, published in a well-known Spanish newspaper, El Periódico, includes a video filmed during one of our photoshoots.
On the second one, published by El Confidencial, we share space with other microstock photographers. We were able to talk about our experience in this world and share our thoughts about the difficulties that we have to fight all of us that we work full-time on microstock agencies.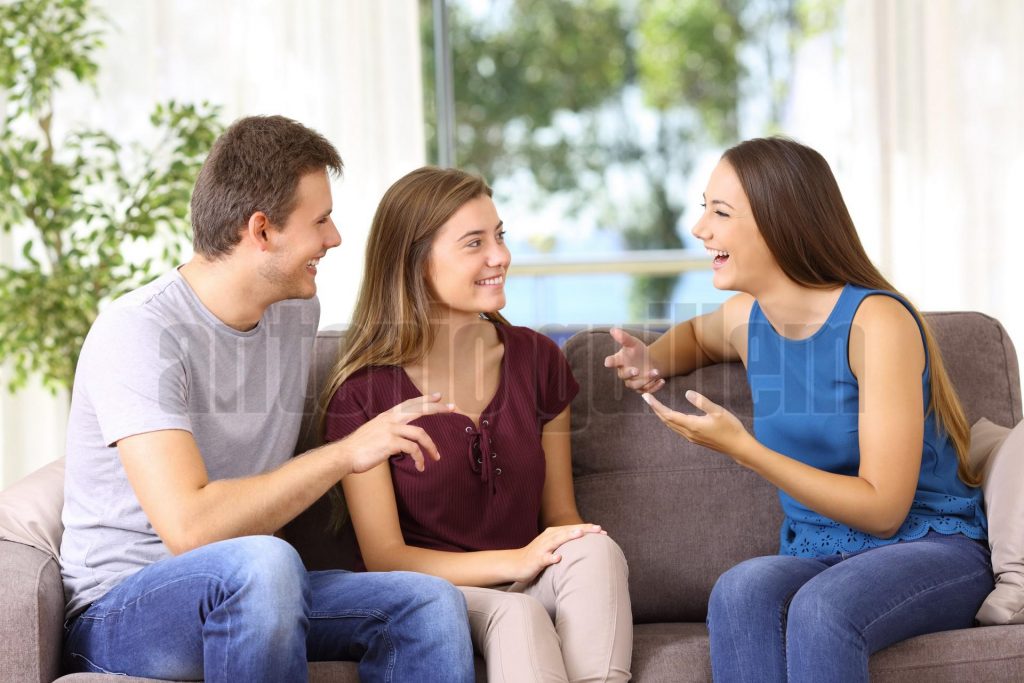 El Periódico – view full interview
Antonio Guillem: "You may have seen me, but you do not know who I am"
For five years the Barcelonian Antonio Guillem (45 years old) and his team sell images of stock, photographs basically oriented to the world of advertising. His photographs are among the most viewed images today. But due to the nature of this type of images, we are not aware of having seen them. We do not identify their models, or their authors.
Antonio Guillem, who has granted an exclusive interview to VideoLab of Zeta, believes that the true success of the stock photo lies in its price. "The only way to succeed in this world of stock photo is to generate a lot of content, of good quality. And never stop doing so. "
For example, we have all seen "distracted boyfriend", a file image of Shutterstock created by him that has become the most popular meme of the year. In the video, Antonio Guillem is indifferent to the success of the meme: "for me it does not matter," he says, "it does not make me proud, until recently I did not even know what a meme was. I'm not interested, and in truth, it bothers me that they associate me with that phenomenon. "
When asked if the success of his photos has fulfilled him creatively, his answer on this is also very clear: "Authorship does not interest me in the least. I am one of the photographers that sells the most photographs in the world and even so, nobody knows. The creators of stock images have a relevance, but that has no matter anywhere else. I just want to generate content that can be sold thousands of times."
---
El Confidencial – view full interview
'Microstock' photographers: earn thousands of euros for selling resource images
Yes, there are people who live selling those typical photos of talking friends or children laughing on the internet. And things are not going badly for them.
The typical photo of the man smiling without coming to mind, a couple who laughs without any sense, a mean face more false than a 'plastic Judas' … Surely you have also seen those resource images in thousands of publications and sites of internet, and well, you should know that there are people making a lot of money just doing this type of photos, and some are Spanish.
Javier Sánchez is one of those photographers who, although he started with some misgivings in the world, now devotes himself body and soul to making money selling his images in the banks of Internet images. "In 2009, I was told by a colleague who knew someone who sold their photos on the Internet, and who apparently was finding it a very profitable business," says Javier. "At first I did not think about it as a serious thing, I just tried to see how it went, I sent some pictures and they did not work for much, I reconsidered a couple of years later, I sent others more focused on the microstock and the thing started to change" , explains Javier in conversation with Teknautas.
This artist from Granada claims that he has been dedicated exclusively to microstock photography for over a year and that one of the reasons why he changed is because the amount of money that can be earned with this business is "unlimited". "If you dedicate to this business the amount of effort in hours that you would dedicate to any job, you get very decent income that allows you to live very worthily of photography, above other types." There are people earning millions of euros a year with this, "he says.
Like Javier, Antonio Guillem also lives from this type of images although, for some more time now. This 45-year-old from Barcelona, who rose to fame these days because one of his images went viral, has been living for 3 years selling in image banks and according to his account is not doing too badly. He started in this world after becoming unemployed because of the crisis and now has, according to his words: "2 studios that add up to 450 square meters, completely furnished with different scenarios (bedrooms, living rooms, bar, kitchen, dining room, office, etc.), van, cars, a complete top of the line photographic equipment, 10 clothes cupboards for the models, and multitude of objects that use of props between them, televisions, portable and other electronic components ". In addition, in conversation with this newspaper, he explains that all his models charge for their jobs and that he can invest about 15,000 euros in a session knowing that he will recover them.
The story of Victor Torres is a bit different. The owner of the blog MyMicroStock, He started with photography much earlier than his colleagues, barely 20 years old. He was in different positions until he decided to dedicate himself exclusively to the 'microstock'. "Shortly after registering I got my first sale, a photo of a stone wall for which I earned $ 0.78. I was very happy to know that someone had bought a photo of mine for some commercial use," he explains. "After some time in which I did not earn much, I got a little more serious and month after month my income went up, after several years, and according to the income that was coming at that time for the sales of my photos, I decided, in 2015, to leave my work to dedicate myself 'full time' to professional stock photography, "says the designer.
To go from not earning anything to get thousands of euros from selling resource photos online and leave your job. What a bargain, right? Well, the figures in these cases are good, but the photographers warn, it's not all as beautiful as it seems. "Everything seems to be an advantage, but everything that glitters is not gold, money is neither immediate nor guaranteed by contract, one must first work, create enough content and adequate", explains Javier. Antonio, for his part, points out that he was around a year and a half without gaining any benefits from his images and that it was from the second year that he began to be able to dedicate himself to this. "My first year in the stock was rather anecdotal, at best it gave me to go with my wife to dinner," confesses Victor.
If you count that, on average, a photo can be around 3 euros in ShutterStock (one of the largest and most important image banks in the world) and at that price you take away the part that the bank takes away and other commissions, imagine how many downloads of your images you need to make the business profitable. According to the commission table that shows this same bank of images, the money you earn will depend on your historical turnover. Without entering into other variables, you can go from earning about 0.25 cents per download, if in all the time you have been in the agency you have not exceeded $ 500 billing, to get you 0.38 if you have more than 10,000.
Antonio, for his part, says he now sells more than 1,600 images a day, being among the most popular photographers in this sector. And that his best photos get around 5000 or 6000 copies downloaded yearly. It is clear that you need large numbers to be able to dedicate yourself to this.
Victor sums it up in a slightly different way: "If you are able to produce one session a week, something that even having another job is more or less feasible, in a short time you can be earning a few thousand euros a month. I know people who are gaining $ 20,000 a month".
Yes, there is also that 'millionaire' side of this business, although it is much more exclusive and the best example is Yuri Arcus, the so-called king of 'microstock'. It is the person who sells the most through this channel. His numbers are around 400,000 annual copies to get around one million dollars in that same period.
How to become a microstock photographer?
If something good has this 'microstock' is that it gives an opportunity to anyone who wants to try to be a photographer to start in this world. Javier, covered weddings before changing the treats for the study and continuous paper, while Antonio, did not even know much about this science when he decided to get fully into it. Even Victor, who has been in photography since he was 20 years old, started uploading photos to the image banks in a totally 'amateur' way, and for taking out a salary supplement with his holiday snapshots. The key, they say, is to have talent, perseverance and good ideas.
Although there are much more selective agencies and even those that seek their own photographers, the truth is that, as Javier says, in most it is possible to enter without any "baggage". "In the main agencies of microstock they only ask you to send a sample of your content and they accept or reject you, although the current trend is to accept practically everyone who sends 'decent' things".
With this admission policy, what is sought is that it is easier to find talent within your platform. In other words, the one who stands out from the rest does so because their picture is the best: "The most demanded images are the 'great' images." Yes, really, if you combine a good idea with an original execution, you will be guaranteed success. But of course, being genius is not the heritage of most of us, "explains Javier. He himself, tells that the agencies themselves in their blogs and 'newsletters' send, to registered artists, the trends of the moment and what is most demanded.
Then it's up to you to have the talent and the ability to get your photo sold more than the rest. "Every day there are more and more authors worldwide who are developing their careers in this sector and the level is currently like that which can be seen in advertising productions of prestigious brands that we see on TV, magazines …" says Victor.
Who knows, it may be that one day you put on sale an image of a couple walking down the street with a few extravagant gestures and becomes the most viewed picture of the world.